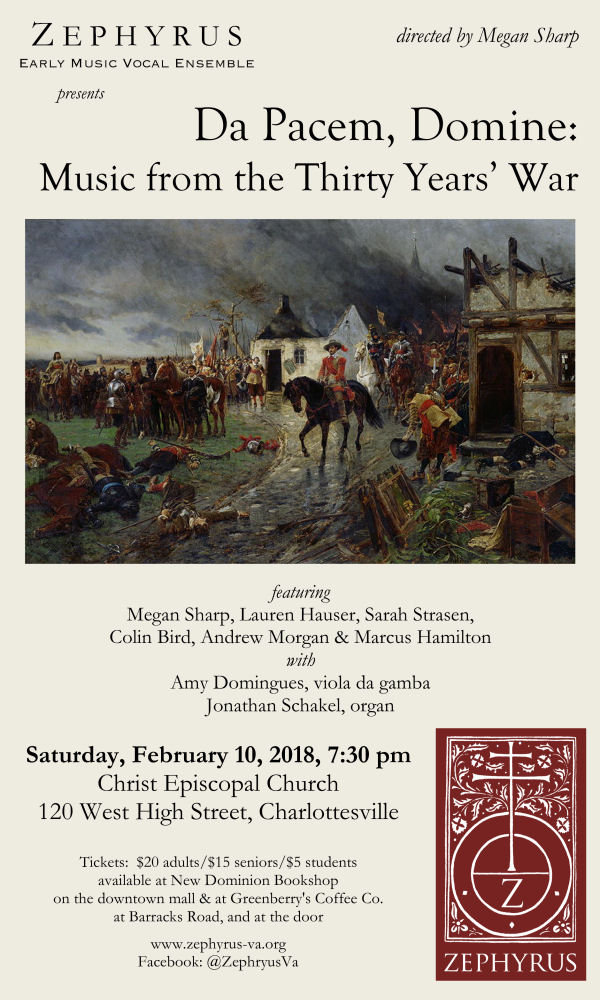 Da Pacem, Domine:
Music from the
30 Years' War
Saturday, February 10, 2018
7:30 p.m.
Christ Episcopal Church
120 West High Street
Charlottesville, VA
Saturday, March 3, 2018
8:00 p.m.
Bruton Parish Episcopal Church
Duke of Gloucester Street
Williamsburg, VA
The Thirty Years' War (1618-1648) devastated central Europe in the early 17th century, creating very difficult conditions for making music. Musical establishments in Germany were dispersed or dramatically reduced in size, leaving musicians out of work or unpaid. The music written during this time includes deeply moving laments, meditations on war's futility, and prayers for peace. Zephyrus marks the 400th anniversary of the start of this conflict with music for small ensemble by Heinrich Schütz, Johann Schein, Andreas Hammerschmidt, Melchior Franck, and others.
Tickets are $20 for adults, $15 for seniors age 65 and older, and $5 for students and children. They are available in advance from New Dominion Bookshop at 404 East Main St, Charlottesville; from Greenberry's in the Barracks Road Shopping Center; and at the door.
Zephyrus is a non-profit vocal ensemble based in Charlottesville, Virginia, that is dedicated to the performance of music from the medieval, Renaissance, and Baroque eras.