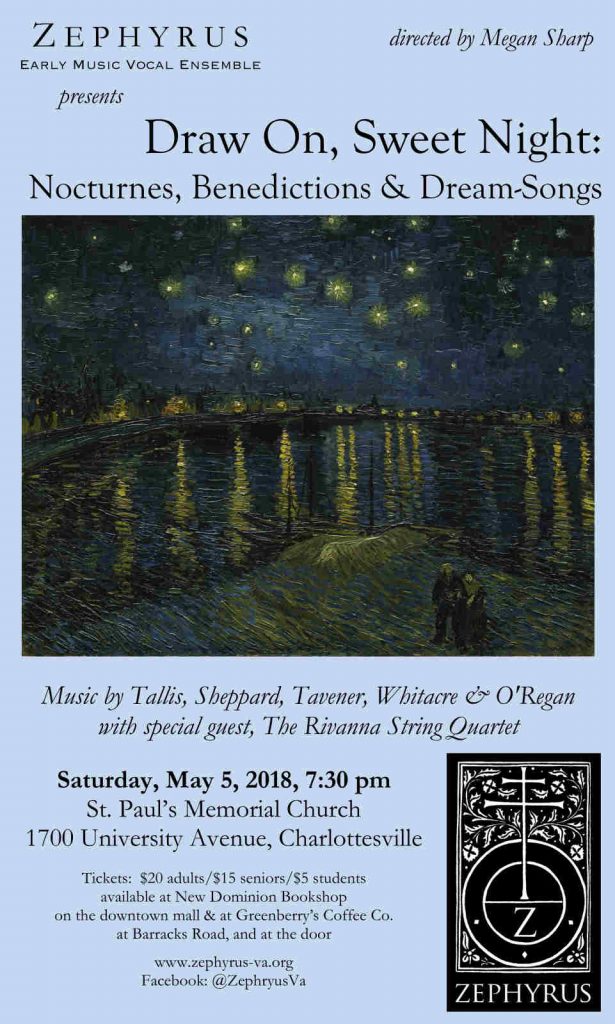 Draw On, Sweet Night:
Nocturnes, Benedictions & Dream-Songs
Saturday, May 5, 2018
7:30 p.m.
St. Paul's Memorial Church
1700 University Avenue
Charlottesville, VA
In May, Zephyrus offers a wide-ranging program of music for the night. Motets for the evening compline service by Renaissance composers Thomas Tallis and John Sheppard are juxtaposed with the ethereal music of contemporary composers Eric Whitacre and Tarik O'Regan. The Rivanna String Quartet joins Zephyrus in this concert, performing John Tavener's quartet, The Last Sleep of the Virgin.
Tickets are $20 for adults, $15 for seniors age 65 and older, and $5 for students and children. They are available in advance from New Dominion Bookshop at 404 East Main St, Charlottesville; from Greenberry's in the Barracks Road Shopping Center; and at the door.
Zephyrus is a non-profit vocal ensemble based in Charlottesville, Virginia, that is dedicated to the performance of music from the medieval, Renaissance, and Baroque eras.