The concert at Emmanuel Episcopal Church, Greenwood will be performed as scheduled. Drive carefully.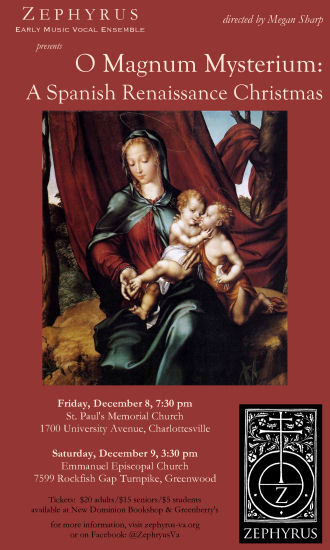 O Magnum Mysterium:
A Spanish Renaissance Christmas
Friday, December 8, 2017
7:30 p.m.
St. Paul's Memorial Church
1700 University Avenue
Charlottesville, VA
Saturday, December 9, 2017
3:30 p.m.
Emmanuel Episcopal Church
7599 Rockfish Gap Turnpike,
(U. S. 250 West)
Greenwood, VA
Zephyrus celebrates the Christmas season with a visit to 17th-century Spain, singing motets by Cristóbal de Morales, the sublime mass Tomás Luis de Victoria composed on his own motet, O Magnum Mysterium, and the folklike villanescas of Francisco Guerrero. The program also includes music from New Spain, with works in the native Nahuatl language by Gaspar Fernandes.
Tickets are $20 for adults, $15 for seniors age 65 and older, and $5 for students and children. They are available in advance from New Dominion Bookshop at 404 East Main St, Charlottesville; from Greenberry's in the Barracks Road Shopping Center; and at the door.
Zephyrus is a non-profit vocal ensemble based in Charlottesville, Virginia, that is dedicated to the performance of music from the medieval, Renaissance, and Baroque eras.