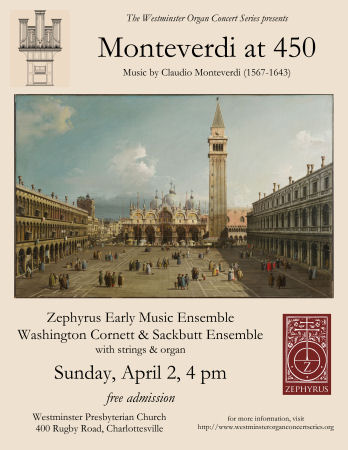 Monteverdi at 450
Sunday, April 2, 2017
4:00 p.m.
Westminster Presbyterian Church
400 Rugby Road, Charlottesville
Saturday, April 29, 2017
8:00 p.m.
Saint Benedict Catholic Church
300 North Sheppard Street, Richmond
To celebrate the 450th anniversary of the birth of Claudio Monteverdi, Zephyrus presents a concert of music by the revolutionary composer who changed the course of music history.  The centerpiece of the program is the stunning Missa in illo tempore, which Monteverdi published in the same volume as his famous Vespers setting, and which he intended as a demonstration of his mastery of traditional Renaissance counterpoint.  A collection of his finest motets rounds out the program.  For the Charlottesville performance, Zephyrus will be joined by the Washington Cornett and Sackbutt Ensemble, baroque violins, and organ.
Admission to both performances is free of charge. Donations will be accepted.
Zephyrus is a non-profit vocal ensemble based in Charlottesville, Virginia, that is dedicated to the performance of music from the medieval, Renaissance, and Baroque eras.