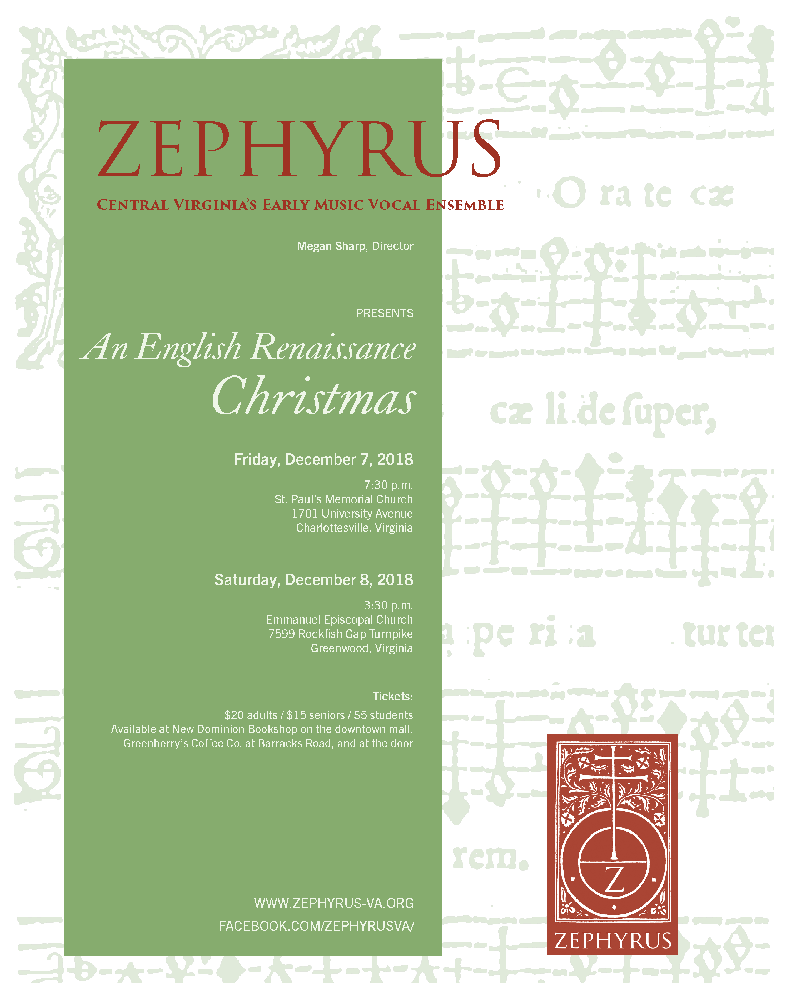 An English Renaissance Christmas
Friday, December 7, 2018
7:30 p.m.
St. Paul's Memorial Church
1701 University Ave.
Charlottesville, VA
Saturday, December 8, 2018
3:30 p.m.
Emmanuel Episcopal Church
7599 Rockfish Gap Turnpike
(U. S. 250 West)
Greenwood, VA
In Renaissance England, Christmas music was as richly diverse as it was sublimely beautiful, with chants and polyphony for use in church as well as carols and songs for the home or tavern. The program includes motets by Byrd, Tallis, Taverner, and Parsons; Sheppard's Magnificat and Nunc Dimittis for eight-part choir; as well as traditional carols.
Tickets are $20 for adults, $15 for seniors age 65 and older, and $5 for students and children. They are available in advance from New Dominion Bookshop at 404 East Main St, Charlottesville; from Greenberry's in the Barracks Road Shopping Center; and at the door.
Zephyrus is a non-profit vocal ensemble based in Charlottesville, Virginia, that is dedicated to the performance of music from the medieval, Renaissance, and Baroque eras.